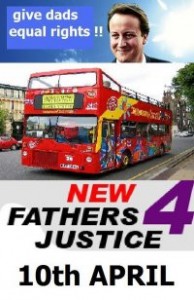 Date: Saturday, April 10, 2010
Time:9:00am – 4:00pm
Location: CARFAX TOWER, OXFORDSHIRE
City/Town: Oxford, United Kingdom
"We cannot go on like this……….with suspicious minds"
NEW FATHERS 4 JUSTICE has a protest in the run up to the General election will be going to do a demo on our battle bus (open top double decker b…us).
We will be targeting David Cameron ( the likely new PM) in the run up to the election.
Spread the word.
We are urging everyone to join in on this one, as its the most important and influential times….general election time.
It will be on SATURDAY, April 10th, in Oxford ( details above)
THE CRITERIA :
1. Please wear superhero costumes.
Plus bring banners, poster, flags, horns, loudhailers etc..
Let's have a hoot and as David Cameron says "We cannot go on like this"